Teaching Pharmacy

This Pharmacy continues to uphold the great tradition and endeavours to bring the benefits of Ayurveda to common man by conducting research in the field of Ayurveda and blending the traditional values of this age old science with modern methods of production and standardization.
TheCollege has well equipped teaching pharmacy with good manufacturing practical standard as per NCISM/ CCIM norms.We have equipped with Quality Testing Lab. for testing the prepared medicine. Machineries like Tablets machine, Hot Air Oven, End runners, Pulverize, Disintegrator, and other accessories are available in teaching pharmacy.
Recent times have witnessed resurgence of medicinal plant industry in India and there is revised interest in subjects like Dravyguna. Introduction of courses related to Ayurvedic Pharmaceutical Sciences is proof of changing scenario as far traditional medical sciences are concerned. One side of the story is that synthetic medicine might have overshadowed the traditional systems of medicine, more specifically known as Complementary and Alternative Medicine . Other side of the story is encouraging as far as herbal drug industry as medicinal plants are being constantly explored for lifesaving and cost-effective drugs.


List of Medicine Prepared in pharmacy in the session 2021-22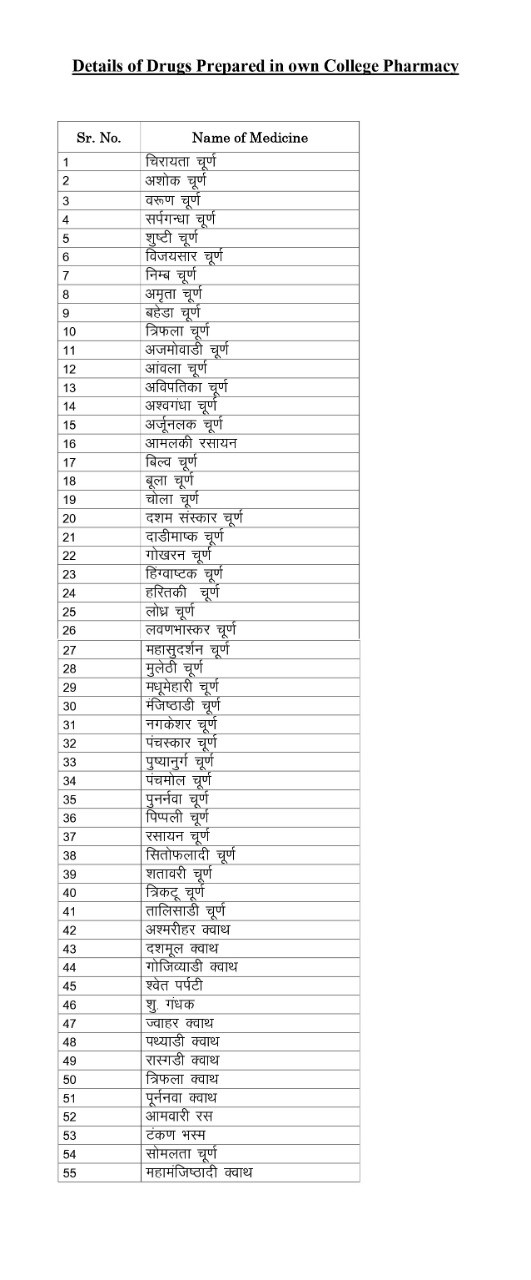 Details of Available Equipments in Pharmacy
| | | |
| --- | --- | --- |
| S. No. | Name of Equipment | Available Quantity |
| | Khalva Yantra- | |
| | Small | 20 |
| | Medium | 20 |
| | Porcelain | 20 |
| | Tapta khalva yantra | 04 |
| | Heating Device- | |
| | Gas Stove | Available |
| | Hot plate | Available |
| | Chulla (Charcoal) | Available |
| | Vessels- | |
| | Frying Pan | Available |
| | Steel Vessel | Available |
| | Spatula | Available |
| | Ladles & Spoons | Available |
| | Knife | Available |
| | Plates | Available |
| | Samdamsa Yantra (Tongs) | Available |
| | Measuring Equipments Different Size (Glass) | Available |
| | Big Vessels & Containers- | |
| | Brass | Available |
| | Copper | Available |
| | Steel etc. | Available |
| | Earthen Vessels-Pots | Available |
| | Balance (Different Capacities) | |
| | Physical | 01 |
| | Chemical | 01 |
| | Electronic Balance | 01 |
| | Pounding Apparatus (Ulukhala Yantra) | 20 |
| | Sieves (Assorted Numbers & Size) | Available |
| | Wet Grinder | 01 |
| | Mixi | 01 |
| | Juice Extractor | 01 |
| | Putas (Different kind) | 10 |
| | Pyrometer | Available |
| | Thermometer | Available |
| | Pressure Cooker | Available |
| | Moosha (Crucibles) | 50 |
| | Koshti with Blower | 04 |
| | Refrigerator | 01 |
| | Jars (Porcelain) Fermentation Purpose | Available |
| | Yantras | |
| | Dola Yantra | 01 |
| | Valuka Yantra | 01 |
| | Pithara Yantra | 01 |
| | Bhudhara Yantra etc. | 01 |
| | Distillation Apparatus & Arka Yantra | 06 |
| | Enamel Trays | Available |
| | Spirit Lamp | Available |
| | Kupipakva Bhatti | 01 |
| | Almiras & Racks for storage | Available |