Campus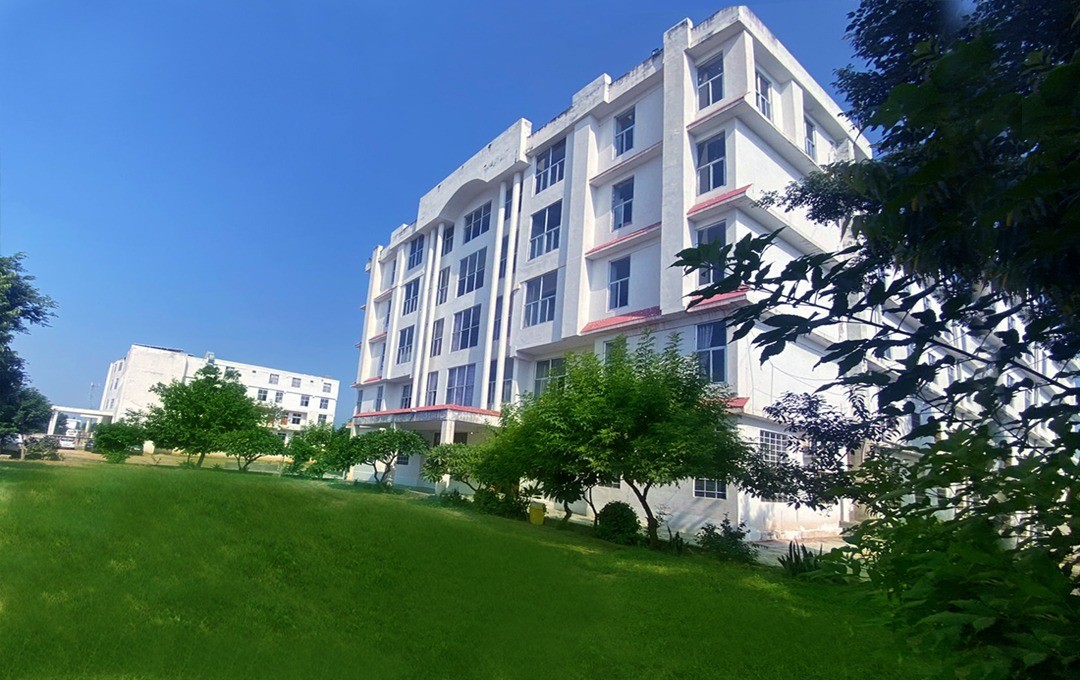 The Mahatma Jyotiba Fule Ayurveda College & Hospital is situated at National Highly -52, Chomu bye-pass, Harota, Chomu, Jaipur in the capital of the Rajasthan State. It is natural choice and preferred destination for students from different parts of the country to pursue professional Ayurveda . Ayurveda college sperad on 5.35 hectures land in which college builidng, Hospital Building, Girls & Boys Hostel buildings, Herbal garden, staff quartes, play grounds etc. exists.
MJFACH campus adopted fully standard prescribed by Department of AYUSH, Government of India, Central Council of Indian Medicine/ National Council of Indian System of Medicine, New Delhi & D.S.R. Rajasthan Ayurveda University, Jodhpur.
The distance to the college from the Jaipur city railway station and Jaipur airport is 23 kms & 30 kms respectively. The college has

sprawling campus spreading over 6 acres of land away from the hustle bustle of the city on National highway-52 with well planned,

excellent infrastructure and accessibility from various parts of the city. The college has a well designed administrative block, well equipped furnished academic blocks, amenities blocks, residential blocks &

having experienced and qualified faculties.
Mahatma Jyotiba Fule Ayurveda College & Hospital

will offer a vibrant campus life in a safe and secure environment. Students will find the beautiful and peaceful campus a great place to live. When they wish to do something there are a lot of choices available to them. Students can pursue the passions they bring to the campus or they can take up new ones. In the chosen activity, whether a student is a beginner or is at an advanced level the student will have company and will enjoy the bonding and camaraderie.
It has been designed keeping in mind the climatic conditions, still connecting the past with modern and contemporary design. The concept of the MJF building and landscape is to create an environment with liveliness as a playground for dreams and a place for inspiration to the students.
The college has well equipped and developed Laboratory of Kriya Shareer (Physiology) and Rachana Shareer (Anatomy), Roga & Vikriti Vigyan (Pathology), Quality Testing Laboratory & departments of up to final Year professional etc. All Departments are rich in Museum, Specimens, Equipment, Machinery, Testing Chemicals and Model Charts etc.
Available Departments
There are 14 Departments as under:-
Department of Samhita and Siddhanta (Fundamental Principles)
Department of Shareer Rachana (Anatomy)
Department of Shareer Kriya (Physiology)
Department of Dravyaguna (Materia Medica & Pharmacology)
Department of Ras Shastra & Bhaishajya Kalpana (Latro Chemistry)
Department of Agadtantra (Medical Juris prudence & Toxicology)
Department of Roga & Vikriti Vigyan (Pathology)
Department of Swastha Vritta (Preventive & Social Medicine)
Department of Bala Roga (Pediatrics)
Department of Prasuti & Stri Roga (Obstetrics & Gynaecology)
Department of Kaya-Chikitsa (Internal Medicine)
Department of Panchkarma (Penta Bio – Purification Methods)
Department of Shalakya Tantra (EYE & ENT)
Department of Shalya Tantra (Surgery)